Clean Ingredients

All our formulas follow a strict black list that excludes toxic, sensitizing, petroleum-based or otherwise harmful ingredients

Vegan

We never use animal products or ingredients in our formulation, production, or manufacturing for our products 

Cruelty free

All our products are cruelty-free and never tested on animals. This means from start to finish: final formulations and all individual ingredients

Made in France

We work with ESAT (a French organization) who help us find suppliers with aligning values, and assure constant improvements to environmental and social commitments along our value chain
Ingrédients
We strive for the cleanest, safest formulas possible and always look to replace toxic or sensitizing chemicals with plant-based options wherever possible. All of our products are vegan, cruelty-free and up to 99% plant-based
Sugarcane

Ethyl acetate, sourced from sugarcane, is used as a major component for the base of our polishes

Corn

Acetyl tributyl citrate, sourced from corn, increases polish shine and smoothness.

Yuca

Butyl acetate, sourced from yuca, gives the polish fluidity and allows for easy application

Potato

Sorbitol, sourced from potatoes, aids in creating a smooth, homogenous texture throughout all our polish shades.

Cotton

Nitrocellulose, sourced from cotton, is a film former and dispersing agent that creates a smooth even finish to the polish

Wheat

Isosorbide Dicaprylate/Caprate, sourced from wheat, is a plasticizer which improves nail polish flexability, prevents chipping and holds color
Green Flash™

The first LED polish which replaces gel by offering long-lasting color and easy removal so you can stop ruining your nails! 

Formulated without 12 of the most common toxic chemicals found in traditional varnishes, including methyl acrylate monomers, which causes most Gel polish allergies

Marie Claire Beauty Excellence Award 🥇

Green

Our version of traditional polish:
vegan, formulated with up to 84% plant-based ingredients and free from 9 of the most common toxic chemicals found in traditional varnishes

The Cosmopolitan Clean Beauty Award Winner 🏆

Care

Care products that include all the steps of a healthy hand routine: prep, regenerate, hydrate, soothe and nourish

Our creams, baumes and soaps are composed of natural ingredients, enriched with benefits from natural actives, and certified organic by COSMOS Eco certification, Vegan, Cruelty-Free and formulated with up to 99% plant-based ingredients
Certified & Validated
Our ingredients and formulas are the most advanced in terms of avoiding toxic effects to our environment and health 🌎🌱 And we don't stop there! We are constantly looking for ways to innovate and improve.
Here are some of the ways we ensure our products are kept to the highest possible standards:
COSMOS Organic Certified

Our care line features cosmos organic certifications which requires that a minimum of 95% of the plants contained in the formula are organic and at least 20% of the organic ingredients are present in the total formula 

Vegan Society Certified

All our products are certified vegan by The Vegan Society which assures the absence of animal products or ingredients in the formulation, production, or manufacturing of products

PETA Cruelty-Free

All our products are certified Cruelty-Free & Vegan by PETA through the Beauty Without Bunnies Program which assures the absence of animal testing for all final formulas and ingredients along the entire value chain
Cosmopolitan Clean Beauty Award

Over 600+ brands participated, and our entire Green line was chosen by a panel of cosmetic chemists, board-certified dermatologists and licensed estheticians based on criteria of being "rooted in science" and "taking into consideration the well-being of people and planet"

Marie Claire Excellence Award

Loved for it's ingredients ourGreen Flash line was chosen in 2020 by a jury of 23 beauty experts as one of only 11 products to win the "Prix d'Excellence de la Beauté" (Beauty Excellence Award) with a special distinction for our sustainable engagements
Sustainable Packaging
The cosmetic industry is estimated to produce around 120 billion tonnes of packaging waste annually, and Manucurist takes this seriously! We are motivated to offer innovative and sustainable packaging solutions like: 
✨ Responsible Materials Choice

All the materials we choose can be recycled to give your products a second life! Most of our products come without secondary packaging, decreasing unnecessary waste! 

☁️ GOTS Certified Organic Cotton

All our bags are made with organic cotton certified by the Global Organic Textile Standard who assures non-toxic growing practices, that do not deplete soil, disturb ecosystems or harm workers 

🌳 FSC Certified Kraft Paper

All paper packaging and shipping materials are made with Kraft, certified by the Forest Stewardship Council, an international NGO whose mission is to promote ecological, social and economic forest management

♻️ Post Consumer Recycled Aluminum

Our care line features recyclable aluminum and in addition, our Botanical creams & soaps are bottled in post consumer recycled aluminum, which gives the material a new life, directly combatting the beauty industry plastic crisis
Biodegradable
Manucurist is proud to offer nail art options like biodegradable glitters so you never have to compromise for a fun creative nail look! All our glitters are tested and certified biodegradable as well as certified as complying with environmental safety criteria outlined by the biodegradable water standard

Healthy Hands for a Healthy Planet
The future is green and we are happy to do our part in offering alternatives to make the nail industry more sustainable everyday. Discover some of our favorites here!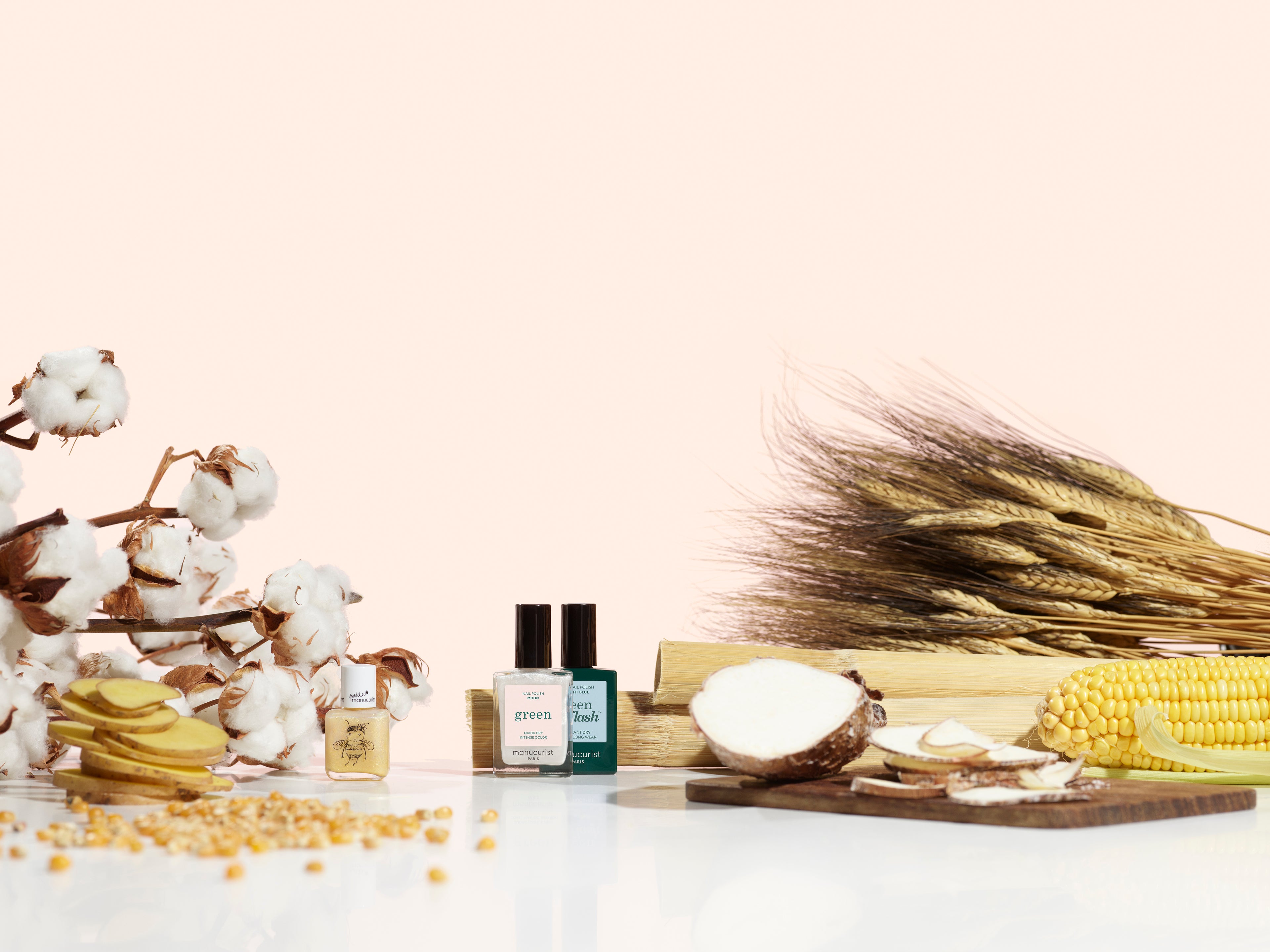 Blog
Want to know more?
Let's talk about some of our eco-initiatives and how we are making strides to change the manicure industry for the better.
Green Flash™
the perfect alternative!
Led Polish

Green Flash

Can be removed at home, without acetone and without rubbing

Dries immediately under an LED lamp

Ingredients: bio-sourced & vegan

Regular Gel Polish

Other brands

Removed in a salon with acetone, using a nail drill


Dries immediately under a UV lamp

Ingredients: potentially harmful and non-vegan

Nail Polish

Green

Can be removed at home, without acetone, by rubbing

Air dries in a few minutes

Ingredients: bio-sourced & vegan
Choosing a selection results in a full page refresh.
Using a plain white background will give the most realistic colours.
Try out our sheer colours on bare nails ✨